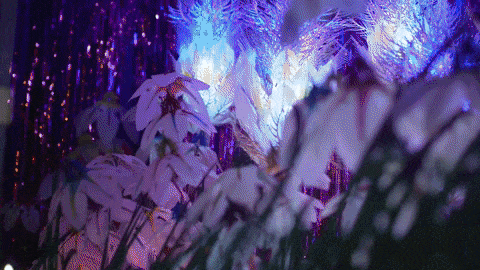 For NAIDOC week 2022, We are proud to have curated the artworks of Jazz Money, Gutiŋarra Yunupiŋu and Dr. Christian Thompson AO. These works will be projected on the Richmond Town Hall from the 3rd to the 10th July and in the courtyard of Collingwood Yards from 30th June to the 10th July. This presentation is made possible In partnership with Agency projects and Collingwood Yards with the generous support of our presenting partners City of Yarra.
Jen Valender, Minor python, 2022.
In New Gold Mountain, whilst further exploring his Bidjara heritage, Christian Thompson also references
his Southern Chinese background for the first time. Intensely personal, New Gold Mountain also speaks to Australia's broader history, and draws a lens onto the country's complex relationship with national identity. For the presentation of the work in Sydney at Yavuz Gallery, writer and independent curator Chelsea Hopper, wrote a thought-provoking essay providing further insight into Thompson's new body of work:
"For Thompson, flowers are not only a vital signifier but also provoke questions around ownership, power structures, and identity. In earlier photographic iterations where Thompson himself dons selected flora reconfigured into crown-like structures—exemplified during his formal training in sculpture—is shrouded in them, or visually concealed from the viewer. Here, a new framework has emerged over recent years in the form of a flower wall: selected blooms are pruned, amassed, and woven into richly filled lattices. They form expansive and immersive configurations that allow Thompson to emerge and re-emerge, time and time again, inviting us into these portal-like worlds to reflect and consider what such questions mean to us. In his new photographic work, New Gold Mountain (Xin Jin Shan) (2021), Thompson continues his signature flower-wall motif, incorporating a selection of chrysanthemums, lilies, and orchids, which pay homage to his Southern Chinese heritage. Thompson's paternal grandmother, Harriet Woods, who was a seamstress and carer to the artist's great uncle after he returned from World War II, is also a direct descendant of the Chinese migrants who immigrated during the Victorian gold rush in the early 1850s. This specific historical lineage has spurred renewed interest for Thompson, as an introspective guide but also to pivot us toward a publicly lesser-known side of his own heritage." [excerpt from essay, full text here]
Wendy Yu, Acts of Holding Dance, 2022.
Yu's artistic practice visually communicates the ever-moving, ceaseless nature of time and exaggerates this quality through dance. By designing her video in the way she has-with a dancer dancing rapidly at the top of the work and the history of their dance falling in a waterfall below them-Yu has allowed the viewer to experience the sensation that time is constantly moving forward, and that our actions and choices of the present make lasting and recorded impacts on our collective history, as well as on nature.
Yu's choice to use dance for this project is that dance itself is an ephemeral art piece that holds the idea of dematerialism. Choreographic works that dancers produce are learnt through bodies and typically do not produce a material product, as we are existing in a time where humans are producing too many lasting material goods, witnessing art pieces that provide us with an inspiring experience whilst not leaving a material impact is a practice we could facilitate more of. Likewise, this value of dematerialism is held by projection art, and so by using both dance and projection I am able to enforce the value of environmental conversation by creating fewer material objects.
Glynn Urquhart, Digital Cyborg Dance, 2022.
Urquhart's work was created using AI, based on over 100 photographs of the artist testing the physicality of their body by stretching, bending, and twisting into different poses. The resulting figure is a digital cyborg, a human form extended by machine use. The figure dances, fluidly shifting from one pose to the next. The work is an equal collaboration between man and machine, grounded in the reality of the artist's body as it exists now in time, but also speaks to the future, created by an AI that has the potential to create new dances ad infinitum.