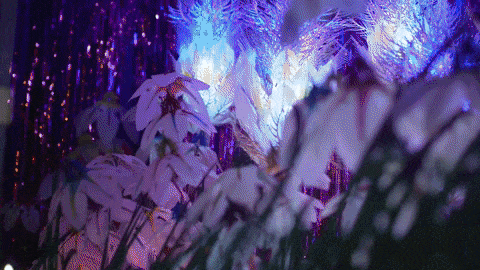 Centre for Projection Art is excited to present an outdoor exhibition representing a diverse range of practices in this collection of digital works at the Heide Museum of Modern Art. This activation complements the remarkable practice of British artist Bruce Munro, best known for his immersive, large-scale installations inspired largely by his interest in shared human experience. Featuring newly commissioned thought-provoking artworks that explore ephemeral moments of transience and hybridity the projected works on display are by past and present CPA artists-in-residence Jen Valender, Glynn Urquhart, Alex Walker, Freya Pitt and Wendy Yu.
​
Thursday 7 - Sunday 10 July, 5PM - 8PM
Jen Valender, Minor python, 2022.
A snake never blinks. It sees through lidless eyes covered by a transparent scale. A python's jaw unhinges in order to ingest prey many times its size. It smells through a flickering forked tongue and hears through its skin. Such uncanny abilities associate the snake with terrifying variance and forces that galvanise the human versus nature divide. Minor python is a projection that turns fears of otherness into a visual experience of cross-species companionship. We see a detail of a young woman entwined with an adolescent female carpet python. The snake intimately coils and spirals around her. Their bond requires trust: the woman has faith that the snake will not strike or constrict, and the python relaxes in her presence, confident that she will not inflict harm. An encounter with reptiles can induce fear in any unwary wanderer. A simple S-shape may conjure culturally entrenched serpentine symbolism, emblematic of malevolent danger, mythologies, deities and sacred beings. Minor python, however, tells a story of kinship and interspecies connectivity. The young performers relate to one another through touch and texture, as their projected bodies undulate across the cold naked vines of a silverback fern on a midwinter night. By linking flesh upon flesh this work refuses to separate humans from nature, seeing both equally vulnerable at a time of environmental crises and degradation.
Alex Walker, Heide II, 2022.
​
Heide II is a site-specific projection developed in response to the iconic Modernist architecture of the Heide II gallery. Presenting images taken within the site and projected upon the building's exterior as light, the work is self-referential. Using projection to animate and illuminate the juxtaposition between internal and external space already present and recognisable within the building's design. Heide II presents light and architecture in a symbiotic relationship, where images are projected to align and directly engage with the architecture of Heide II. Lines and forms bend and stretch along each plane and perspective. Mirroring phenomenological encounters with windows, corners and corridors which continually hide and reveal aspects and vantages of the space as you move through it. This work is activated by the presence of the viewer and encourages further perceptual experiences with the site itself.
Wendy Yu, Acts of Holding Dance, 2022.
Yu's artistic practice visually communicates the ever-moving, ceaseless nature of time and exaggerates this quality through dance. By designing her video in the way she has-with a dancer dancing rapidly at the top of the work and the history of their dance falling in a waterfall below them-Yu has allowed the viewer to experience the sensation that time is constantly moving forward, and that our actions and choices of the present make lasting and recorded impacts on our collective history, as well as on nature.
Yu's choice to use dance for this project is that dance itself is an ephemeral art piece that holds the idea of dematerialism. Choreographic works that dancers produce are learnt through bodies and typically do not produce a material product, as we are existing in a time where humans are producing too many lasting material goods, witnessing art pieces that provide us with an inspiring experience whilst not leaving a material impact is a practice we could facilitate more of. Likewise, this value of dematerialism is held by projection art, and so by using both dance and projection I am able to enforce the value of environmental conversation by creating fewer material objects.
Freya Pitt, Something alien, as a power independent, 2022.
Stepping outside a friend's 4 bed 4 bath townhouse, an artist loses her bearings. Looking down she sees years of trying (but not for anything in particular), a modest accumulation of liquid capital (because who knows when she'll need it and what was all the work for anyway) and a sense of desire estranged from direction. Looking up, she sees the other side of a suburban street. If she worked a lot doing something very boring, perhaps she too could have concrete capital. The kind that she could grow old in. An alien thought. A different kind of labor, for a different kind of stability. It would mean giving up on things, letting things go. Made in a moment of overwork and indecision and taking its title from Marx's Estranged Labor (1844), this work abstractly weighs the heaviness of a known quantity of labor for the next 30 years against the liquidity of 25% casual loading on an unstable unit quantity. Through historical Western imagery and texts, Something alien, as a power independent grapples with the institutional forces that encourage the trajectory towards private property and accumulation. While sometimes overt these references are often more lateral, playing with the complex ways that we are formed (and inform) the world we live in. There is something intrinsically alien and untouchable about light and projection. Multiple videos of the artist rehearsing different lines of thought competing for real-estate within her draw the medium's unreality into another seemingly untouchable realm - that of the social - a power dependent on all of us, together (but some more than others).
Glynn Urquhart, Digital Cyborg Dance, 2022.
Urquhart's work was created using AI, based on over 100 photographs of the artist testing the physicality of their body by stretching, bending, and twisting into different poses. The resulting figure is a digital cyborg, a human form extended by machine use. The figure dances, fluidly shifting from one pose to the next. The work is an equal collaboration between man and machine, grounded in the reality of the artist's body as it exists now in time, but also speaks to the future, created by an AI that has the potential to create new dances ad infinitum.