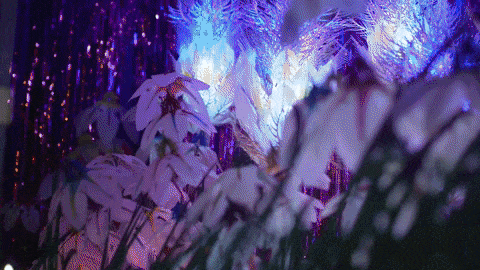 hume winter light festival
Join us at the Hume Winter Light Festival this June for a night of discovery, knowledge sharing, and connection with the Hume community. Featuring artists Angela Rae, Kay Abude, Wesley Dowling, John Patten, Moonis Shah, Carla Zimbler, James Henry, Jim Coad in collaboration with Hume community members and Yandell Walton in collaboration with HSC. Centre for Projection Art's Priya Namana has curated large-scale artworks, including work by local Hume artists, which will be projected onto the architecture of the festival surrounds.

The iconic Town Hall Broadmeadows and surrounds will be transformed featuring; live music, workshops and interactive artworks. Check out the full program.
​
Saturday June 18, 6PM - 10PM
Angela Rae, Echo of the Masses, 2019.
​
​
The arrival of thousands of random outsiders inundating the locals and the town itself. How do we arrive? What is the weight of our luggage/presence? The wild dancing and feeling of freedom and togetherness, all while amid an array of litter. Rock on. Rock under. Rock under my feet. Collection and assembly of bodies. Passing through the crowd. Let your hair down. Moving as though our ancestors are behind us and our descendants are in front of us. We are family. Regenerating landscapes and scenes from different times and places. Transporting a moment in time to another moment in time. Absurdity. Finding places to fit humans into. Changing the perception of space. Curiosity and mystery. Disruption of locals. Will anyone recognize us? What interactions will occur? Start a conversation. Echoing the past and recreating the present. Displacement. Searching for ways that our bodies can be interconnected within different sites. How can the human body move through this landscape? How can this landscape move through the human body? How can we bring consideration and awareness back into this land? Where is our consciousness? Does water have memory? Brushing wind, grass, hair. Holding or being held. Moving together or apart. Can we feel each other? Let's dance. Let's dance through time. Let's dance through Sunbury.
Jim Coad, Parts Moving in Harmony, 2021. Collaboration with Helen Kelly, Leonie Van Eyk and the Hume Community.
Parts Moving in Harmony is a community-engaged art project commissioned by DPV Health to coincide with Harmony Day 2021. Artists Jim Coad, Helen Kelly and Leonie Van Eyk hosted a workshop, inviting community members to create pin puppets around the themes of culture, identity and belonging. The process of making and animating pin puppets gave participants an opportunity to express their identities and narrate their own stories. This work is about the extraordinary capacity communities have for storytelling through creative self-expression; to grow and develop special relationships in everyday life.
Carla Zimbler, SCATTER, 2022.
SCATTER is a study of atmospheric optical phenomena, celestial bodies and metamorphosing orbs. SCATTER is an invitation to meditate on light, air, and water - that which surrounds and sustains us, as ineffable forces of splendour.
Yandell Walton and Hume Central Secondary College Students, The Light Project, 2019-2022
The Light Project is a collaborative public art project developed by Hume Central Secondary College Year 8 students and projection artist Yandell Walton. This work was created over an 8-week program at the Dimboola Road Campus in which students learnt a combination of traditional mediums including painting, drawing, collage and technology-based 3D scanning.
​
In this work students explore the themes of community, self-expression and identity to tell their individual stories; stories of their past and present and dreams for the future.
Applying a Surrealist lens, the artwork consists of collage portraits made from cut-out images, with illustrated and painted eyes representing each student; landscapes, symbols and objects signifying identity and telling stories of journeys and migration.
​
"Our school community has experienced a unique pathway to meet and talk to people who excelled within the community, this has allowed our students to think about their pathways and how working together can improve the world around them." Anthony Bottino, Teacher
​
​This project was proudly funded by Victoria Government-Creative Learning Partnerships.
Kay Abude, (DON'T) BE AN ARTIST semaphore performance (family), 2021.
​
DON'T) BE AN ARTIST semaphore performance (family), 2021 documents a series of performances by the artist and members of her family. The video depicts Abude and her family signalling the phrase 'DON'T BE AN ARTIST' in semaphore, while adorning blue screen printed costumes emblazoned with this same phrase. The performances are carried out at Gertrude Glasshouse (the satellite gallery space of Gertrude Contemporary, where Abude is a current studio artist 2019-2022) and a location near both Melbourne Airport and the family home. The artwork touches on diverse themes, including coordinated or cooperative activities, international trade, migrant experiences, and scepticism toward creative careers.
Moonis Shah, On These Lands, 2022.
In this work, Moonis Shah shares a video work from the game of life. Made from patterns extracted from the algorithm of the game, this work is a playful display of the machinic thinking of the game in motion.
​
Moonis Ahmad is an artist whose practice includes installation, sculpture, programming, sound and video. Through the intersection of art, philosophy and history Moonis seeks to critically address the questions of territory, language, belonging, gatherings and borders.
James Henry in collaboration with Feyza Yazar, Stories of Connection, Stories of Us, 2022.
In order to show the connection between the people in the images, James Henry wanted to capture each person's reactions whilst hearing stories told by their loved ones. Henry positioned them on either side of the camera to be able to capture some genuine moments between the two.
​
As a still photographer, Henry noticed many moments of expression within a few seconds of shooting. Each frame tells its own story. So Henry thought with the slow-motion he could capture each person as they passed through time. Especially moments of love, laughter and compassion.

The layering of native trees and plants from Wurundjeri Country, Henry thought they would be a nice symbol of connection to country. Just as there is a connection with the people in the images, Henry wanted to represent the connection to nature that many Aboriginal and non-Aboriginal people feel.
Wesley Dowling, Field, 2022.
​
​
Field is an interactive floor projection comprised of a repeating grid of lines that reacts to the presence and movement of people. Located in the bike cage at the Hume Winter Lights festival, the artwork surveils and tracks the motion of participants as they walk through the space, forming distortions in the grid lines by their detected presence. The motion of the participants continually forms varying patterns that allow both the audience and the machine to collaborate in dialogue to produce an ever-changing artwork.
This artwork demonstrates the rise of computer vision which are new technologies that help computers "see" and understand the content of digital images such as photographs and videos. Computer vision technologies are fuelling many current innovations such as automated vehicles, robotics, and facial recognition technology. They are also increasingly being commercialised to analyse and profile into categories based on age, gender, location, and profile to precisely target advertisements. This artwork playfully uses these new surveillance technologies to reveal to the viewer some of their inner workings and ubiquity.
John T Patten, Eel Trap, 2022.
This work represents John T Paten's interests in traditional Koori cultural practices, including how Koori people have cared for, managed, and fished our waterways for tens of thousands of years. The image shows a traditionally woven eel or fish trap placed in a narrow channel, with an eel approaching. The image in its animated form is interlaced with numerous cultural and natural motifs.